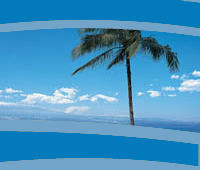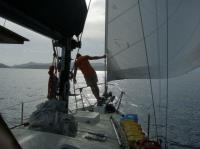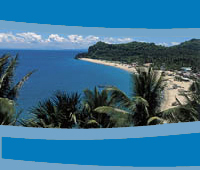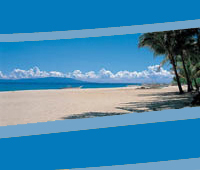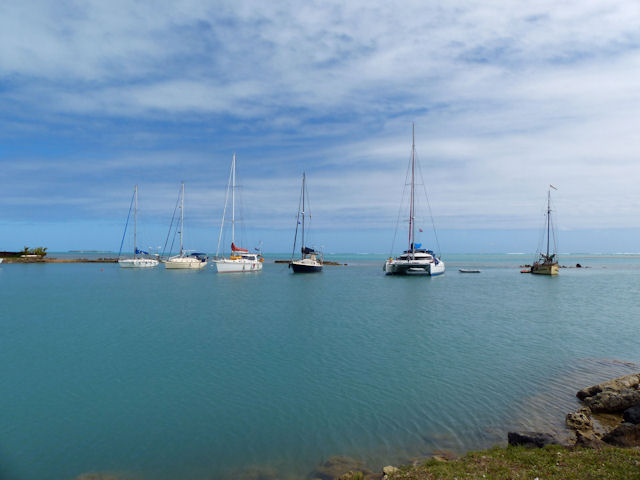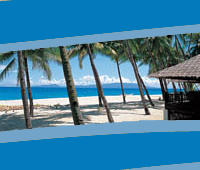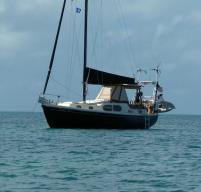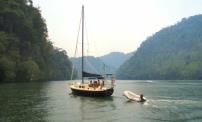 Calico Jack is a Caribbean 35 sloop-rigged sailboat designed by Sparkman & Stephens and built by Chris Craft in a Taiwanese boatyard.  She's a rare bird, as Chris Craft specializes mostly in power boats and only 100 of her kind were made. 

Built in 1972, before they knew how strong fiberglass was, the hull is very thick and heavy duty (our carpenter told us that we should be very careful of hitting the reef...  we might damage the reef!).  She's beamy at 11' across, with a full keel drawing 5' and for a 35-footer, she has plenty of space inside: two staterooms, 2 heads (each with its own shower), a spacious main cabin & a centre cockpit...  For you landlubbers, that translates into prime real estate: a 2-bedroom, 2-bath on the water with a spacious patio and a big-ass swimming pool!

CJ was in need of a lot of love when we got her.  She was purchased in St. Pete, FL, but had spent many years neglected in San Andres (off the coast of Nicaragua).  It was a divorce sale, and a story worthy of a whole webpage alone -or an entire episode of Jerry Springer.  She came home to Key West in 2003 and we've since been giving her a complete makeover.

We started with a new engine, water system, fuel system and a complete electrical overhaul.  And that's just what's in the bilge!

The living area has seen many changes, too.  The old icebox has been converted into a huge refrigerator.  We've added a salt water pump & tap (for washing -rinse with fresh), hot and cold running fresh water, installed new toilets & showers, new lights and fans.... Carpeting, flooring, curtains & blinds...  Plus every bit of upholstery has been redone by yours truly.  We kick ourselves for not taking many "before" photos since she's certainly a far cry from where she was when we moved aboard.  We had no 12V power at all, no toilets, no refrigeration and no running water.  But we want for nothing now and the biggest compliment we get is how homey she feels.

Up top, approximately 18 square feet of deck rot has been replaced, vents removed and opening hatches installed.  On the bow, we built an anchor pulpit with windlass.  On the stern, a custom made seat that extends over the water an extra 18" makes for a roomier deck area.  A big addition was the radar arch, which accommodates our wind generator, solar panel, speakers and more.  This was a very lucky acquisition.  It was custom made for a boat that sank and the owner decided to write it off; it was salvaged and fits Calico Jack like a glove.  We love it because it solves a lot our space management problems and it suits the classic look of the boat.

Other topside improvements include an electronics console, cockpit table and floorboards.  And of course, several coats of wood treatment, paint and nonskid!

During our Caribbean trip in 2007, we had the pleasure of having a custom crafted teak pilothouse built in Cartagena, Colombia.  It cost us part of our trip both financially and timewise (10 weeks!) but it was well worth it.  It was constructed using mostly handtools and a good eye.  We had tinted plexi installed on all windows except for the forward one, a compromise between the greenhouse and being able to see at night.  The clear window opens up completely for great ventilation at anchor.

We're very pleased with it.  It would have been difficult to find someone here in the U.S .to construct it and the price was unbeatable.  We were very grateful to have it on the return portion of the trip.  It really changes everything!

If you're interested in seeing the process, visit Archives -> Caribbean 2007 Photo Gallery and view the "Cartagena" photo album.

Back home again, it was almost a total refit for our next big trip.  Getting out there and "doing it" forced us to address some problems, especially in terms of energy consumption.  As a result, we added a second wind generator, 2 more solar panels and completely rebuilt our refrigeration system -it was our biggest power drain.  We also replaced the battery bank with four 6-volt traction batteries connected parallel to make it a 12V system.  They combine to make about 750amp hours.  Take THAT!

Other acquisitions include a completely new anchor system, a radar and a better autopilot; a new headsail and roller furling revamp; new rigging & lines; and a hi-tech internet booster which makes me happy!  And of course more paint, more wood finish and nonskid and a whole lot of new canvas to round out the long list of projects.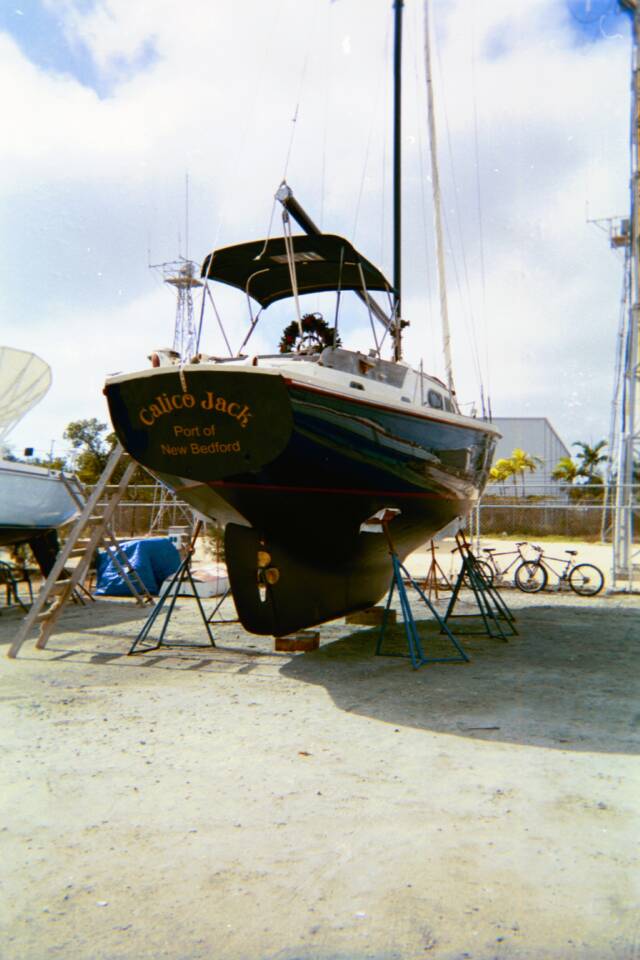 Calico Jack at Boca Grande, Florida, Summer 2006

Her first haulout in January 2004.  She's a lot of boat below the waterline!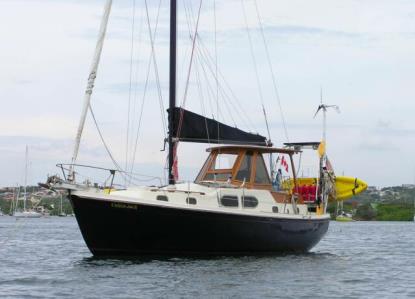 Curacao, Netherland Antilles, Fall 2007

Inside Calico Jack

Click below for Photo Gallery

An album of some of the modifications we've made, as requested by a fellow C35 owner.

Quite honestly, though, you could sit at the dock and poke away at a project list forever but at some point it's just time to get going.  Projects are ongoing -that's why the tools come with!  Someone once wrote:

"The definition of Cruising is

The art of fixing your boat in exotic locations."

Click Below for Photo Gallery: