We checked in with Bahamas Customs & Immigration in Georgetown, Great Exuma.  The cruising permit for the Bahamas has gone up to $300, which is outrageous.  On this trip we have checked into 12 countries and territories (some of them twice) and all of them together haven't added up to that much! Furthermore, he wasn't even particularly nice!  Could I have a smile for that $300, please?  Maybe pick up my bar tab?  And, tax dollars hard at work, the other 2 employees in the office were playing solitaire on their computers.  Yeesh.  Maybe I wouldn't be so bitter if it weren't the end of the trip and our funds scarce.  But moreover, there should be some kind of concession for those passing through.  Ok, I'm done griping.  On the positive side, I guess we could be stuck in the middle of nowhere with bad weather bearing down on us.

We stayed the night in Georgetown and after collecting weather information the next morning, we decided to leave immediately –racing the weather again!  In fact, if we'd been able to get weather information the day before we probably would have left just after checking in.  We sailed straight up the Exuma Island chain, past Nassau, across the Northeast Providence channel and over to the Berry Islands in about 35 hours.  All but 4 of these hours we needed to hand steer because the weather was too much for the autopilot.  Still, we're very glad we did the trip because it's blowing like stink here today and the conditions are certainly worse than they were yesterday (tucked up behind Chub Cay, we're working our $300!)  It's Monday today, and I can't believe we left Grand Turk on Wednesday.  That's almost 500 miles we did in 4 days –and we stopped over one of those days!  We've been making great time.

We're going to rest up today and check the weather for our crossing to the Bimini Islands.  We need to time for a daylight entry so we might be leaving in the middle of the night again.  But not tonight –we're pooped!  We needed a nap after breakfast!

13 December 07   …Bimini Islands

Alice Town is quaint and laid back and the people are friendly.  Everyone greets you when you pass on the street, often even if they're in their cars.  We had no real luck checking it out yesterday, though, as everything is closed on Wednesdays.  Why Wednesdays?  If you ask why, they look at you like you have two heads.  Why not Wednesdays?  It has always been and forever will be!  Also, it's very slow here right now.  From everything we've been reading all the cruisers start heading down in November so we were a bit surprised to find out that summer is their high season here.  It's funny because at Chub Cay, only 75 miles away, it's the opposite.  Methinks something is funny here…  But being the closest Bahamian island to Miami, only 55 miles away, they probably get a lot of those folks here on the weekend.  A fast boat could make it here in only a couple of hours.

But a quiet town is even better for us and after the Wednesday handicap, we decided to stay another day to see what Alice Town is all about.  We walked around today and discovered beautiful beaches on a gorgeous sea, arts & crafts stores, a conch and lobster omelette for breakfast (!) and warm locals.  We also found Dolphin House, a small guesthouse built and operated by Mr. Ashley B. Saunders.  We just happened to catch Mr. Saunders on his way out and he was gracious enough to show us around.  The building houses a small museum (Mr. Saunders is the author of the history of the Bimini Islands, a comprehensive 2-book set) and two guest rooms upstairs.  He is also currently working on a rooftop patio with some terrific views.  But the most remarkable thing about Dolphin House is that Mr. Saunders has built it himself, entirely of natural and recycled materials from the island.  Don't picture a heap of junk because you'd be dead wrong.  The walls are a mosaic of tile, shells, sponges, coins and various things he's found on the island.  Any building that's being torn down here has contributed in some way to Dolphin House, be it tile or a mirror… it's truly incredible, and a work of art.  Travis was so wowed by the premises and Mr. Saunders' hospitality that he offered a couple of his old bottles to add to the collection (gasp!).  Travis doesn't part with those bottles for anything!

One place that we really wanted to check out here was the Compleat Angler Hotel & Bar.  It's a famous Hemingway hangout (yeah, the guy got around!) full of spirit and character, and the best bar on the island.  But we were dismayed to find that it burned down two years ago.  A local lady told us that "they found one part of him, but we never saw that boy again…"  Apparently someone had been sleeping upstairs –how horrible. They're supposed to be rebuilding it, but they'll be starting from scratch so it won't be the same.  Travis has been there before, but I feel gypped!

Sadly, the trip is almost at an end!  The Bimini Islands are the last jumping off point to tackle the gulfstream between us and Florida.  We were originally going to stop in Marathon to visit friends on the way, making our way leisurely down the coast, but we're racing a cold front again.  We may still make that stop but if we push it all the way down to Key West, we know we have a choice of safe places to hide from bad weather.  We'll play it by ear.

05 January 08   …Home

We made record time coming home, squeezing between the weather from tropical storm Olga and the impending cold front.  The gulfstream was a kitten ("So what's the big deal about this Big Bad Gulfstream?" I asked, ha ha!) and we zipped down Hawk's Channel overnight, arriving in Safe Harbour just before lunchtime.  It was so quick, I hardly believed we were home!  Within hours the wind and sea conditions started to pick up, but we were safely tucked away.  We did end up making the Lighted Boat Parade, and it sure was fun getting home at this time of year to catch up with everybody at various Christmas parties.  I did determine, though, that it's more fun being IN the parade and I'm already cooking up ideas for next year!

The past 3 weeks since then have been chaotic, so much so that I'm only just getting to finishing up the Caribbean 2007 portion of the website as you can see!  We really needed about 2 weeks to get the boat and our lives straightened out.  We compromised on one week.  …However, Travis was back to work within 24 hours and I managed to eke out 4 days!  It's nice to be needed, but the result has been total chaos.  The family's Christmas presents only made it out on the 24th and let me tell you that it's tough to walk through a 35ft boat with everything pulled out of the hatches!  It's coming together now, though, and some things will just have to wait.  We even managed to pull off our 2nd annual New Year's Day brunch at the last minute!

Work has been busy for the both of us.  At Key West Sail and Canvas, I'm feeling back in the groove and on track. Travis has been busy with TowBoat US and in fact I just went three whole days without really seeing him so things are back to normal on that front!  We just had a big weather system blow through here and he's spent the last few days out rescuing the desperate, including a 130ft passenger ferry.  We hit lows of 45 degrees F (7 C), breaking the previous record set in 1898.  If that weren't ridiculous enough, they were even talking about a windchill factor of 35 F (2 C)!  I smugly stated that "you guys" have no idea what windchill even is, but it was a bit hypocritical since I uttered the statement from beneath 3 hearty layers of clothing…

Well, I guess that's all for this adventure!   Thanks to everybody for keeping up with our travels.  Check back to the website now and again because I'll be changing things around and adding pages.  Hopefully I'll have the time to keep up with it!

Cheers, Everybody!!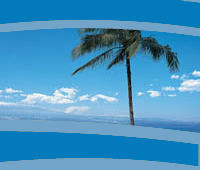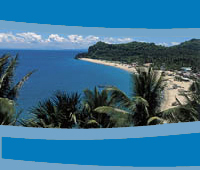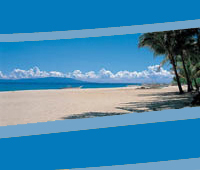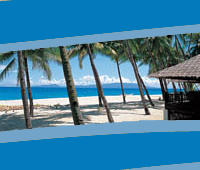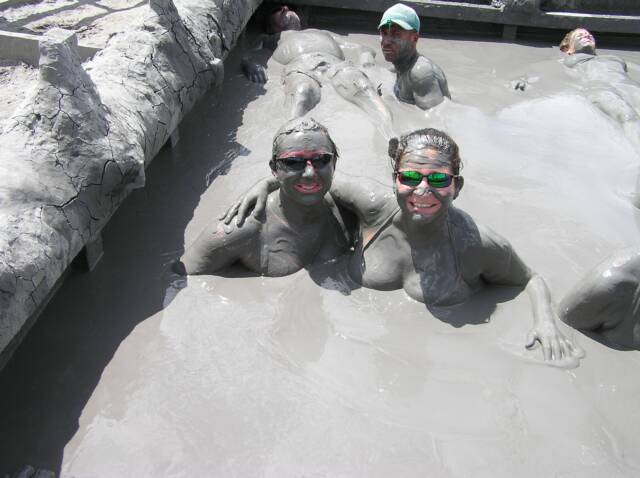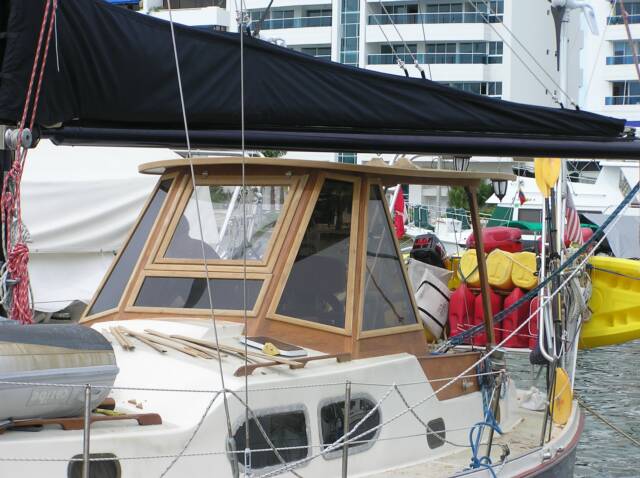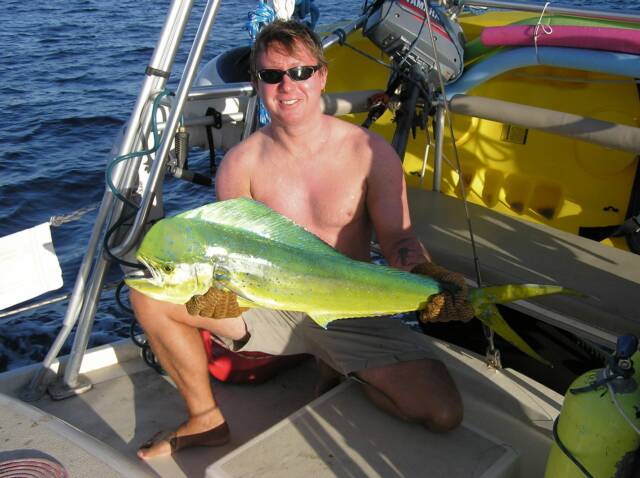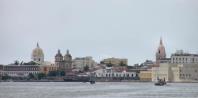 ...boldly going where Columbus has gone before.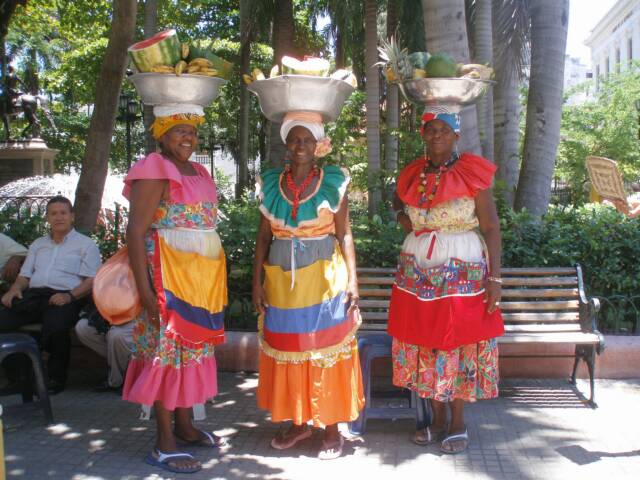 12 August 07 ...Cartagena

It was an easy trip here. With the current in our favour we were screaming along at 7 knots(!) and made the 190 miles in an easy 30 hours. We had an escort again -a yellow breasted bird that kept flying right into the cockpit with us. He tried to land on the pedestal but couldn't get a good grip. The poor little guy must have been very tired out in the middle of nowhere! He disappeared but we had another one make himself at home on the solar panel the next morning. I would like to think that it was the same one who found a place to camp out on the bow overnight, otherwise he would have dropped into the sea from exhaustion. A fabulous sunrise in the morning looked like a hot pink forest fire burning on the horizon but I was too tired & stiff from sleeping in the cockpit to get up and take a photo, something I kicked myself for all day! And no sooner had I commented on how we couldn't have asked for a more idyllic trip (other than the tuna that got away!) than we arrived here in Cartagena and spent 2 full hours trying to anchor! Both the Bruce and the CQR skipped across the bottom so we pulled out our heavy-duty

Fortress storm anchor but couldn't get it to set, either. After 8 or so attempts, a slip at the marina was starting to look very inviting! Finally Travis hooked up the Bruce and CQR in tandem and we got it to stick but with the "culo de pollo" storms that rip through this area unexpectedly in the summer, we're not all that comfortable with going too far away from the boat until we know our holding is good.

Tonight we'll chill out and get a good night's sleep and deal with check-in tomorrow.

09 October 07   …MUD!!

A group of us went to el Volcan de Lodo El Totumo: a miniature volcano that spews mud instead of lava and ashes.  We climbed to the top for a dip in the creamy mud and floated while we were pushed around and massaged.  It's 2500 metres deep so there was touching the bottom.  We were literally suspended in this stuff which is why we needed pushing around –it was hard to swim!  Afterwards we strolled down to the swamp where the ladies threw buckets of water over our heads and washed out our swimwear as we remained submersed in the muddy water.  Maybe a bit personal but they did a great job because we all felt pretty clean except for the grit in our hair!  The mud contains minerals so it's supposed to be therapeutic and we were all commenting on the way home that our skin felt so soft.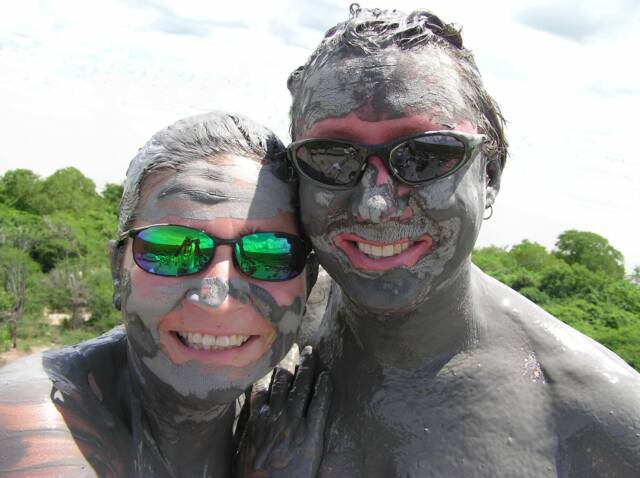 13 October 07   …Dancing with the…

We suddenly got cable here on the boat a couple of days ago.  It hasn't worked the whole time we've been here then we turned on the TV to pop in a DVD and eureka!!  So we've been watching subtitled X-Files, Friends, The Office, Law & Order…  Then today I had it on and caught an episode of "Bailando con los Gorditos".  No, not Dancing with the Stars, but Dancing with the Fatsos!!  I thought it was a joke at first but alas, it wasn't.  One professional dancer was teamed up with an overweight amateur, they rehearsed a routine and performed it in front of a panel of judges.  The first duo had a professional man with an amateur woman and she actually had some coordination but the second duo had the large man swinging around a silver-clad woman like a rag doll!  He was just heaving her around like dead weight.  Oops, no pun intended!

The mentality about weight (or excess thereof) is different here in the Caribbean.  In fact, the "-ito" suffix added to "gordo" intimates something cute, sweet, little and/or dear so the term isn't as insulting as it would seem.  Indeed, a few extra pounds is looked upon favourably here, particularly with regards to the female of the species.  Dude, that must make me HOT!!  Ahem, yes, I've put on a few pounds.

I'm discovering that it's a common lament among cruisers, again, particularly among the female of the species.  I was shopping today with two friends who confirm that women gain weight while cruising and men tend to lose it.  What's up with that?

14 October 07   …Groundhog Day

This whole pilothouse thing is turning into the transmission saga all over again, I swear!!  Nothing is within our control and we're met with setback after setback.  After much ado and frustration, we finally had everything all sanded and washed down to put the finish on this weekend and, you guessed it: rain.  So there we sat, waiting for it to stop raining so it could dry so we could sand out the water stains so that we could wipe it down again so we could apply the finish.   We finally accomplished this yesterday, then it rained again.  A bit too soon for our liking but it's held up well except for one tiny spot that we'll fix.

Meanwhile, we're embarking on Week 9 of the 5-6 week project and it was supposed to be finished (again) yesterday, "mas o menos" –more or less.  However, here we sit still without a roof so we told Alvaro that we're leaving Wednesday and his eyes got big.  Ok, how many more days?  "5, mas o menos".  Which means at least a week.  Given that we've seen him working on new projects for someone else, we were pretty bitter cats yesterday.  But they are working on it furiously today, a Sunday, and said that they will work through the holiday tomorrow so maybe we lit a fire under their asses.

Today is Sunday potluck and the last day here for our friends on "Constance", "Dolphin" and "Seabird".  Tomorrow morning they're headed north to the tip of Colombia and onward to the ABCs when weather permits.  It would be nice to be leaving with them as planned, but maybe we'll see them again in Curacao.

19 October 07   … Mobile Again!

We had to have an ultimatum chat with the boys on Tuesday.  We had been encouraged Sunday by their renewed efforts but alas, they only put in half days.  We needed to be careful A) because we didn't want to piss them off and B) we really like them!  But we told them in the nicest way possible that we don't think they realize how serious this holdup is.  5 or 6 weeks turning into 9 = we're overbudget, our friends left without us and we have to be in the Virgin Islands in 3 weeks!  As it turned out, the dockmaster had no idea how overdue the project is, either, and was equally surprised to discover how much has yet to be done this week.  We told them that we're leaving Friday 4pm, whether the job is done or not.

Today is Friday and they've been hauling ass for 3 days and it's really coming together now.  Maybe we won't have to take away as many unfinished pieces of wood as we thought, but we could be applying the finish as we leave the harbour!

We've been preparing to leave for some time now (!) so we really don't have a ton of last minute running around to do, which is nice.  I made a trip to the grocery store to get some of my favourite local fruits and some fabulous meat empanadas that I only discovered in the deli yesterday.  This has been happening a lot over the past couple of weeks: discovering something wonderful that I could have been enjoying for the last 2 months!  However, we have enjoyed a lot here.  The old city is wonderful and we'll miss the men and women wandering the streets and our dock yelling out the daily produce they're peddling –kind of like having the groceries come to you again, except I'm not in my bikini!  The rum has been good, even the cheapest local variety which is a first on this trip (besides the beloved Flor de Cana!).  And of course the laid back hospitality of the Colombian people is something we'll look forward to coming back to, as well.

We've about to leave late in this afternoon so that we can pass (dodge!) the debris of the Rio Magdalena in the daylight.  We'll be in touch again from the ABCs –the weather looks good for the passage.

21 October 07   …Five Bays

We left Cartagena by the skin of our teeth.  The boys were still working right up until we pulled away with wet paint and masking tape on the roof!  They ran out of time for some small stuff, but we'll take care of that at some point later on.  They almost had another whole day to work, though, because our agent didn't have our papers ready for us to leave at 3:00.  We received them finally at 3:45 and they had us heading back to Colon!  So off he ran on his scooter to the Port Captain's office before it closed.  We were finally met at the fuel dock at 5:00 with everything in order.

We ran an easy 20 hours up the coast.  The Rio Magdalena is something that needs to be tackled in daylight since it tends to dump debris into the sea after a heavy rain.  You know, the usual fare like logs, foliage, cow carcasses…  However, no excitement this time since there wasn't much to dodge besides the occasional clump of tree matter.

We managed to catch up with our friends on Constance, Dolphin & Seabird here at Five Bays, a little further up the Colombian coast.  It's beautiful here as the misty mountains drop straight into the sea.  We share the anchorage with several other boats, most of which are heading the other way.  We arrived just in time for a fish fry which was a nice opportunity to catch up with everyone.  Today we toiled most of the day and managed to get at least 2 coats of finish on every area of the pilothouse so we're good to go.  Thankfully, the weather held out for us but we were treated to a most excellent light show this evening!  We are all set to leave early tomorrow morning for Cabo de la Vela or Bahia Honda further up the coast.   However, if the weather is good, Travis and I might be going on ahead full steam to the ABCs since we don't have as much time to play with as the others.

22 October 07   …Snow!

We all four left early this morning only to discover that the weather hadn't settled as much as we had hoped.  Rather than beat ourselves up, we decided to pull into another of these pretty bays and try again tomorrow.  As we approached it, I looked up to see what Travis was longing to lay his eyes on: a snow-capped mountain in the Caribbean!  We were told that they're only visible from a distance and only on a clear day so I guess we lucked out!  We learned that the Sierra Nevada de Santa Marta mountain range is the highest coastal mountain range in the world, with Pico de Bolivar at 19,000 feet.  Impressive, and so strange to see snow in the Caribbean!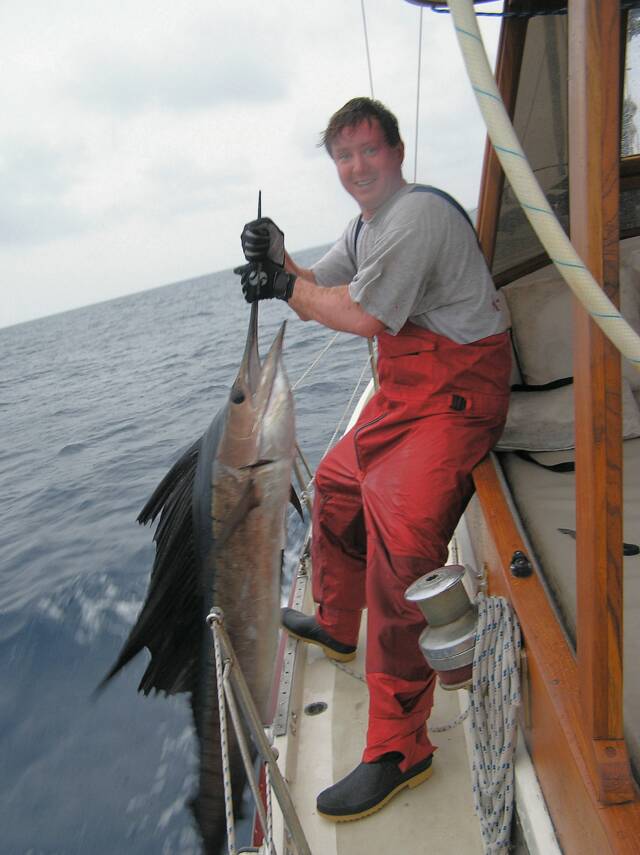 25 October 07   …a Topsy-Turvy Transit

We attempted yet another departure from the Five Bays early Tuesday morning only to turn around and come back again.  The weather was taking its time settling down but wemade another go of it a little later in the morning –third time's a charm. The conditions were improving but we hit some nasty squalls in the night.  We had a decent amount ofwind but it was manageable -it was the amount of lightning that was a little unnerving!  A couple of the other boats watched as a nasty black cloud formed right over Calico Jack (told you I'm a weather magnet!).  Fortunately we squeaked out from underneath it but Dolphin behind us got a ton of rain.  However, up ahead two squalls were merging and it provided us with some up close and personal lightning as we ran through it.  We were surrounded by lightning strikes hitting the water so it was pretty hairy.  A direct hit isn't likely to affect us personally unless we're silly enough to be standing there holding metal, but it could do a real number to the electronics on the boat.

Just as the fracas was dying down to a dull roar, Seabird radioed that their fresh water pump crapped out on them and they were going to have to sail into Cabo de la Vela without the engine.  Unfortunately, this isn't the best place to have a major breakdown since facilities are scarce.  They luckily managed to get a line on some local information that proved useful.  There didn't seem to be much that we could do to help so we left behind whatever tools might be useful and headed off to the ABCs ahead of everyone else since we have less time.

10 December 07   …The Bahamas

Let's be clear about this: we haven't been sportfisherpeople on this trip, or any. Our motto: drag it, reel it in, filet & release.  We fish for grub only.  We don't even have a rod to make it semi-sportsmanlike: our reel is clamped to the back rail.  And certainly we don't fish when it's rough out!  Who wants to filet the fish when the boat is rockin' and rollin'? 

Still, for our unsportsmanlike conduct, we're not out there mass murdering and pillaging.  We only fish what we need and we throw back what's too big for us to reasonably eat.  Even so, we find that the score between us and the fish is a little uneven!  I think we've lost more lures than fish we've caught and there's been plenty a night when we've had to resort to canned tunafish on crackers when we were really hoping for the real thing.  Yeah, laugh it up, Fishballs!  We suspect they're keeping score, too.

All that being said, we caught a nice bull mahi on the run from Grand Turk.  He did put up quite a fight, too (I guess he didn't get our memo).  As we tossed the carcass overboard to become another part of the food chain, we thanked him for his yumminess –we had enough for three meals.  And the blissful weather held out for the remainder of the run so it was a great trip, all in all.